This wasn't the first wreath that I ever made - but it sure is the most awesome one!
Believe it or not, I found a synthetic (plastic and wire) wreath in the garbage at my apartment complex and fished it out. I fluffed it back up, attached some tiny pine cones with craft wire, and bought some ribbon and plastic poinsettias for less than $5. I made a beautiful bow with the ribbon, wrapped a length of ribbon around the wreath, added the poinsettias, and VOILA! A beautiful wreath.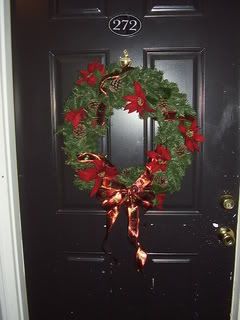 It made me feel so good to finish this project! It was mostly good 'ol elbow grease that got this one done!