I've been working on a special hat for my husband lately - something that's warm for the predicted cold winter, and something that covers his ears. Which led me to choose the popular ear flap hat style. Here is is, finished: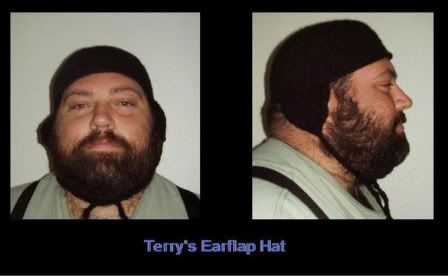 This took quite a while, because my husband has a head that's larger than average. It was definitely worth the wait, however...it fit perfectly, and he was thrilled with the results.
He did ask me to make it longer in the back, and I offered a solution: I could make a back panel that attaches with buttons or velcro. That way, it could act as a neck gaiter, and be removable when he finds it annoying (like when he's wearing a hooded sweatshirt with it - all that fabric back there will definitely make your neck warm, but would probably bunch up in the back, creating more of a hassle than a benefit.
He hasn't worn it outside yet, but after a couple minutes inside, his head was starting to sweat.
My work here is done. Kinda.