I've always wanted to carve a howling wolf into my pumpkin. This year, I decided to finally do it, after I considered and rejected several other pumpkin designs (Among the contenders: Jack Rackham's jolly roger with crossed cutlasses, and a simple, elegant grim reaper). Next year, when we get our own house, I can carve to my heart's content, but living in an apartment has special challenges, namely the lack of space. The wild, roving packs of rabid kids that are native to this area are also an annoyance. They love to steal things, smash things, make noise, etc. I could only imagine what horrible fate will befall my pumpkin when I leave it out on Halloween night while I go to my awesome friend's Halloween party. Oh, well - I guess that's one way to learn impermanence.
Without further ado, here is my fabulous carved pumpkin: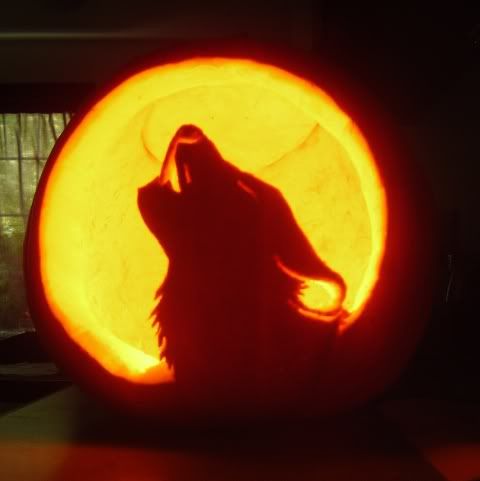 I hope everyone enjoys a safe and Happy Halloween!