While moving, I found a few hats that I made that I seldom (if ever) wear. I decided to give them to a homeless ministry, and started to look around for one...unfortunately, I was unable to find one in my area, but I did contact Clark County, Washington's
Council for the Homeless
for information. I was kindly referred to the
Friends of the Carpenter
, a homeless ministry that is, in short, amazing. They have a large wood shop, and teach the local homeless how to use the equipment to make beautiful, mostly religious themed items. If you're interested, their Product Catalog is
here
.
Now, in addition to the hats that I found, I decided to make a special hat, specifically to give away to the homeless. Here's the hat: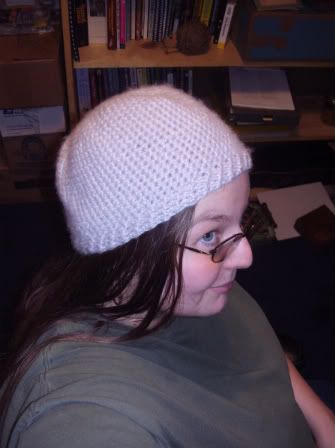 Feel free to flatter the beautiful model with compliments. :D
I decided that every time I do an "experiment" or practice another crochet skill, that I make a large swatch of it, and make it into a hat. This one was done in rounds, though, with no seam. Here, I was practicing crochet ribbing, and it turned out so well that I was just a little bit sad that I had to give it away.
I hope it will make someone very happy - and very warm - this holiday season.