My first canning project is sweet zucchini relish!(Gluten-Free of course!)
Here's a photo of the finished product:
and with cloth covers: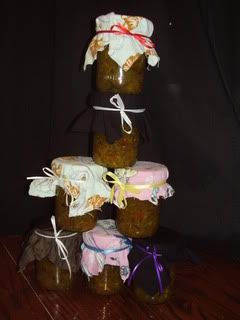 If you'd like the recipe, it's on allrecipes.com:
Sweet Zucchini Relish
A few notes about this recipe:
*Make sure you have oodles of zucchini!
*Make EXTRA sure that you have enough sugar and vinegar.
*Get all the right spices. If you don't, it just won't taste the same.
*Follow safe canning procedures
The recipe received a 5-star rating on allrecipes. And having tasted it today (I had a little left over, so I stuck it in an unused jar and put it in the fridge), it is easy to see why. DELICIOUS!!! Will I use some for Yule gifts? I'm thinking about it, but it is REEEEEALLY GOOD!