I sent this cross-stitch hummingbird to my grandma: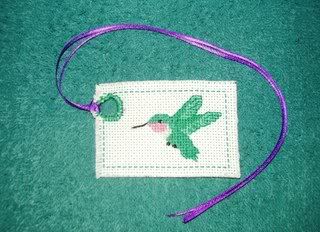 It took a while to do. I almost finished it during vacation, but then it made its way down to the bottom of my cross-stitch bag; presumably never to be seen again. I managed to fish it out, wash it off, and finish it. I punched a (somewhat ragged) hole in it, stitched it up, put a pretty little ribbon on it, and sent it to my grandma (a hummingbird fanatic) in the mail. Oh, JOY!
I got the pattern for it at
Bird Cross Stitch
.
Enjoy it, artsy fartsy peoples!