Here's my happy face keychain: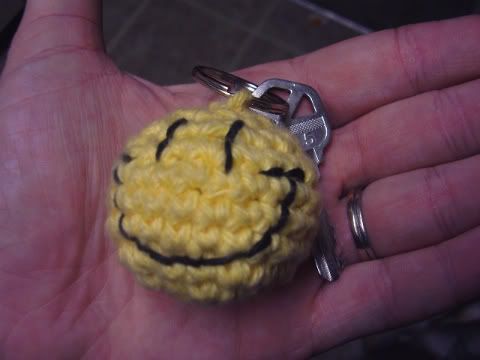 I absolutely loved crocheting this little guy! He was really fun to make. Over my long trek in the world of crochet, I have learned how to make many things - and I'm starting to be able to make things from scratch (no pattern!!!). Although, this is a simple ball, it actually took a lot of time and effort to complete. It's done with worsted weight cotton yarn, with the face embroidered on with cotton embroidery thread.
When I finally do go out and get those jump rings, I'll make sure to add one or two to this guy - I've been having the same problem that I had with the eyeball keychain; the yarn gets caught in the part of the ring where things are taken off/put on.
This one is also a prototype for my Etsy store, whenever it does make it's appearance. I really want to build up my "inventory" before I decide to start a store, however small that storefront will be.