I found the pattern for this
terrific cloche
at the
Coats and Clark website
.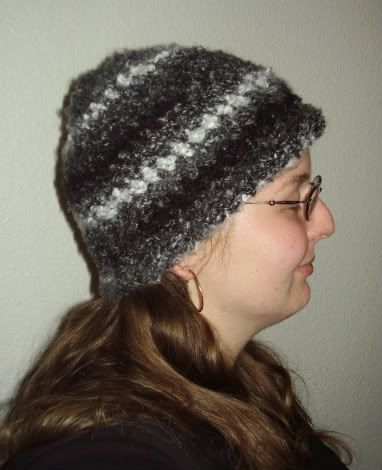 It was confusing at first, because I had a hard time seeing the stitches when I crochet in 'Light and Lofty'. To combat this, in the foundation row I crocheted with two strands of yarn - Light n' Lofty, and a strand of regular worsted weight yarn. This way, I could easily identify the stitches. I was tempted to do this around the whole hat, but as it turned out, by the end of the first row, I got into the habit of crocheting by FEEL - so it wasn't really necessary. After I finished, I just cut out the extra strand of yarn in the foundation row.
This project helped me to learn a new skill - it was awkward and unpleasant at first, but I persevered and was rewarded in the end!
Hope you enjoy my new hat...I sure will!